Apps designed for specific countries will always offer increased convenience and will provide localized content that you can make use of. The best Android apps for Africa brings you content hand-picked that will help you know more about the places, weather, news and much more.
The South Africa news app is the fastest and most reliable news network that brings stories on a wide range of categories from multiple sources to your Android phone. You can sort news by site or category and can also save them to read offline. The app has a handy news widget, allows you to share favourite stories and block images for quick loading times.
The Africa Weather app is the only one in the Google Play store that is supported by the South African weather service. The app provides you exclusive updates on an incoming storm, maps, lightning strikes and notifies you if the weather is right to indulge in some outdoor activities. It also helps you stay informed of the traffic in different locations to ease your commute.
If you live in South Africa, the SA Tax Calculator is a must have app which lets you easily calculate monthly tax, check total take home pay, compare taxes in a visual graph and also lets you do advanced calculations to know the pension fund, UIF among others.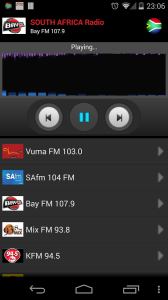 The one stop solution for all your music needs. Radio South Africa app brings the best local radio stations together and you can even ask the developer to add more stations, as he is willing to help people out. It has got a consistent four star rating and continues to get popular with time.
Emergency Numbers South Africa
An app specifically created to help South Africans and people who are visiting the place to stay updated with all the emergency phone numbers. It's easy to use and is an ideal choice for adults, school children and young girls to stay secure.
---
---
---